Very few Indians have been cheering for Australia at cricket this month, but Australia's newest sprint sensation Uncommon James has gained a cult following from parts of the subcontinent after his dashing Oakleigh Plate victory.
The Queensland-based sprinter is sired by Cable Bay, which was cast off to India by his former owners last year after failing to live up to expectations in both England and Australia.
Uncommon James already boasts a strong following after hailing from Corooy, near Noosa, with a population of just 3000, but his fanbase could explode if even a tiny percentage of India's 1.4 billion people get on board.
AUTUMN CARNIVAL OFFER: UNLOCK EVERYTHING ON PUNTERS FOR $4.99
Never before has the Oakleigh Plate had ramifications in India, but Uncommon James had parts of Punjab roaring on Saturday when he marked the stallion's first Group 1 winner.
Caitlin Hoysted bred Uncommon James when sending her mare Pickabee to Cable Bay (Image: Morgan Hancock)

"It was very good news that he now has a Group 1 winner, the horse (Uncommon James) looked to be a very fast horse too," Cable Bay's new owner Simranjeet Singh Sidhu told News Corp Australia from India.
"He stands in the Punjab area now at my family's stud (Kehar Singh Stud Farm) so it was very good to see."
Owner-breeder Caitlin Hoysted sent her mare Pickabee to Cable Bay in 2018 when standing at Woodside Park in Victoria as part of a shuttle stallion agreement with Highclere in England, with Uncommon James the result.
The four-year-old is by far the most successful progeny Cable Bay has produced, with the Oakleigh Plate marking his first Group 1 winner.
In emotional scenes on Saturday, Hoysted, wife of co-trainer Matt, carried a piece of Pickabee's tail with her to Sandown after the mare died just weeks ago.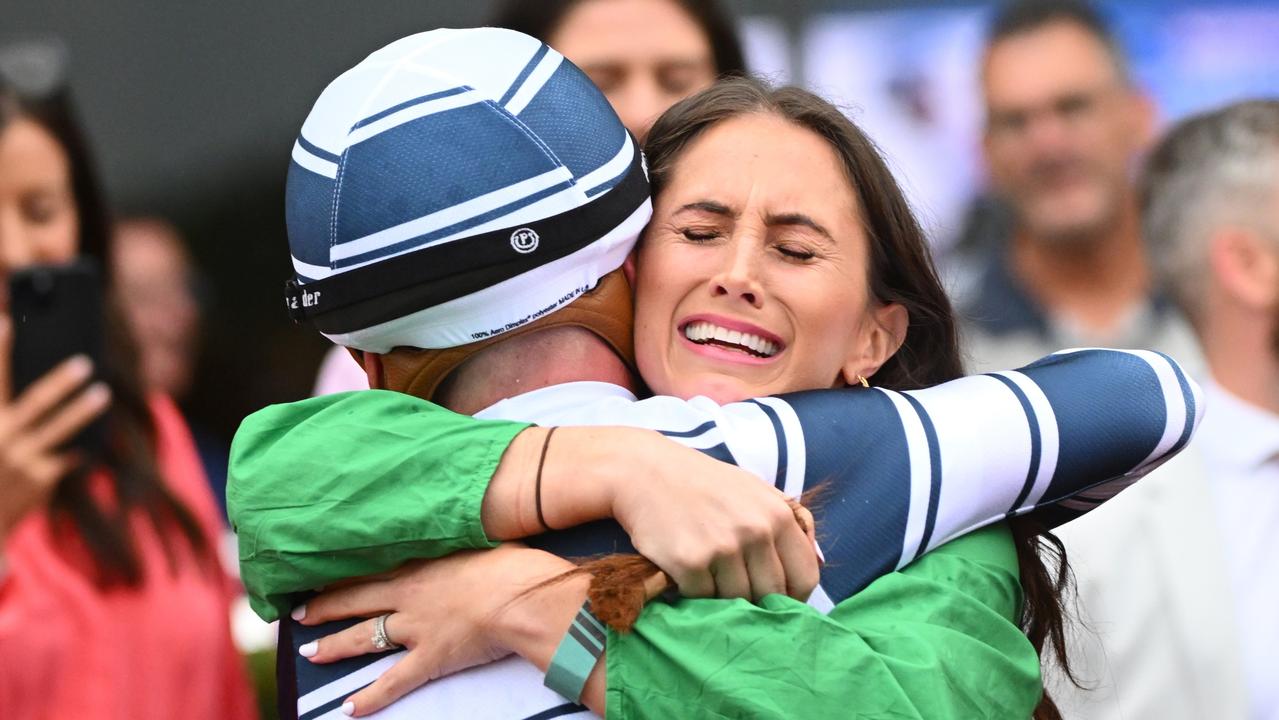 Caitlin Hoysted holding part of Pickabee's tail (Image: Vince Caligiuri / Getty)

Singh said while horse racing is to reach the heights it has in other parts of the world, it was growing in India.
After a legal stoush in 2019 almost saw Cable Bay not travel to Australia as part of his shuttle duties, he was eventually sold to India last year.
Singh said the Indian breeding season kicked off earlier this month, and confirmed Cable Bay had already served a handful of mares on his property for around $7500 (AUD) each.
"He has served about 10 mares since February 15, we don't know if they are pregnant yet, but that is what he has served," he said.
"We got the horse from Highclere Stud, he was standing there in England – in India there is a bloodstock agent called Gaurav Rampal, so he brokered a deal for us to get Cable Bay off them.
"We have around 10 racecourses in metropolitan cities here. Horse racing is not as common here as it is in England or America say, however."
With English heritage, racing has a rich history in India, with evidence of it dating back to 1777 in Madras (now Chennai).
Incidentally, the trainer of the Oakleigh Plate runner-up Lofty Strike, Julius Sandhu is of Indian descent and started his racing journey in his homeland, before working in Dubai and now Cranbourne.