Gareth Southgate says his ambition is for England to be ranked No 1 in the world.
His side looked a long way from that level during a laboured win over a Malta side who sit 171st in the standings at Wembley on Friday night.
However, the 2-0 victory meant England have won Euro 2024 qualifying Group C and are all but assured of a place in Pot 1 for the tournament draw next month.
Southgate is now calling on his side to raise their standards away to North Macedonia on Monday evening. It may be a dead rubber but the England boss wants to see consistent high-level performances for his team to be considered the best side on the planet.
"Qualification's done," said Southgate, whose England team were ranked fourth in the latest edition of the FIFA standings.
FIFA World Rankings
1: Argentina
2: France
3: Brazil
4: England
5: Belgium
6: Portugal
7: Netherlands
8: Spain
9: Italy
10: Croatia
"Some of the players have got three games to get into a squad, some have got maybe three to get into a team, maybe a couple more if we're talking about the team.
"There's some things we'd like to see. But if we're going to be a top team, then the level of performance has got to be spot on every time."
Asked if being No 1 drives him on, Southgate said: "Yeah, because ultimately you achieve that through consistency and you've got to play well in the tournaments as well because the ranking points are higher in the tournaments.
"Also, it sets behaviours every day on the training pitch, off the training pitch.
"If you are going to be the top-ranked team, there's no room for sloppiness or casualness. That's got to be our drive."
Sky Sports News' Rob Dorsett and football journalist Peter Smith reflect on England's unconvincing 2-0 victory over Malta in Euro 2024 qualifying

England currently sit fourth in FIFA's world rankings, making it five straight years of being in the top five.
Their previous best since its launch was six months in the top five across 1997 and 1998, yet there remains plenty of criticism for Southgate and speculation about his future.
Monday will be England's final qualifier before the manager's contract expires next year and he smiled when it was mentioned that former Football Association executive David Dein had said he should get a new deal.
Asked if he anticipated this being his final qualifier in the hotseat, Southgate said: "I haven't thought about it, really.
"I've thought about the game tomorrow and the need for a better performance than Friday so that's what I've been focusing on.
"I feel almost as if we've almost talked too much about the Euros already and I didn't see our focus in the right place at the weekend.
"So, it's tomorrow, then it's March, then it's the summer. And we go from there."
England manager Gareth Southgate reveals the latest injury news on Jarrod Bowen ahead of their Euro 2024 qualifier clash with North Macedonia.

Southgate downplayed suggestions of his future being a distraction but suggested his comments about their Euros ambitions may have been.
"Well, I think talk of the summer was a distraction on Friday in its own way," he added.
"Look, in football management, frankly I think you should look no further than three or four games ahead anyway.
"But I think when you've got a tournament coming up, inevitably, as an international manager, you're going to be judged on tournaments so everybody before that is pretty futile, really."
England's final camp of the year has been disrupted by absentees.
Five players withdrew from the original squad through injury and two more departed the squad before they flew out to the Balkans.
The FA announced Kieran Trippier had gone home due to a personal issue, while injury meant Jarrod Bowen left the camp on Sunday.
A sold-out Tose Proeski Arena awaits England's absentee-hit 21-man squad as the Macedonians look to make up for June's 7-0 hiding at Old Trafford.
"We play a team who, although they can't qualify, have tremendous pride and they'll be wounded by what happened in Manchester," Southgate added.
"We have to be ready for a really good atmosphere. Full crowd, full stadium.
"We've had a calendar year where we've been very good, so we want to finish well."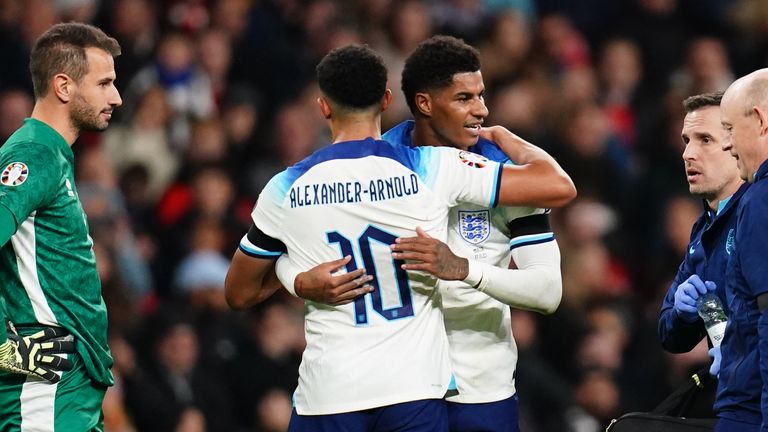 England are all-but guaranteed to be in Pot 1 among the top seeds for next month's Euro 2024 draw – but there are still problems for Gareth Southgate to solve.
They have already achieved all that they set out to in the competitive games building up to next summer's tournament ahead of their final group game against North Macedonia on Monday.
So, with this game a genuine dead rubber, the equivalent of an international friendly, what are the priorities for the England manager to assess over the coming 90 minutes?
Sky Sports News senior reporter Rob Dorsett analyses what the England boss will be looking out for.