We previously covered the Walt Disney Company (NYSE:DIS) here. Its theme parks had been struggling to return to pre-pandemic attendance levels. On the other hand, its rival, Universal Studios (CMCSA), appeared to be more popular recently, displacing the former's ranking compared to pre-pandemic levels. Combined with the overly inflated park prices, growing dissatisfaction among parkgoers, and the Florida Special district overhang, it was unsurprising that the DIS stock significantly retraced over the past few months.
For this article, we will be focusing on DIS's potential entry into the sports betting market, attributed to the strategic choice in reorganizing its businesses, with ESPN separated into a stand-alone segment. With the renewed interest in sports post-reopening cadence and the recent boom in legal sports betting during the FIFA World Cup and NFL Super Bowl, it was unsurprising that more tech companies had been looking to beef up their streaming offerings, significantly aided by the $93.2B spent by Americans on sports betting in 2022.
DIS' Potential Introduction Of Sports Betting As "Strategic Direction For Renewed Growth"
DIS' Strategic Reorganization

The separation into three business segments was highly telling of DIS's sports ambition, since only ESPN networks (and other sports streaming) were separated from the Disney Media and Entertainment Distribution segment. According to the management, the decision was made to differentiate its sports offerings as a stand-alone segment, and not to divest or spin off.
This likely built upon Bob Chapek's previous roadmap toward a diversified streaming portfolio as discussed during the FQ1'22 earnings call, due to the growing public interest in sports:
Sporting events continue to be the most powerful draw in television accounting for 95 of the 100 most watched live broadcast in 2021, and ESPN once again set the bar this quarter with live games across each of our four major U.S. sports, including the revolutionary Monday Night with Peyton and Eli… adding alternative presentations for UFC golf and college football events for each of the next three years. (Seeking Alpha)
DIS's Investments in DraftKings and fuboTV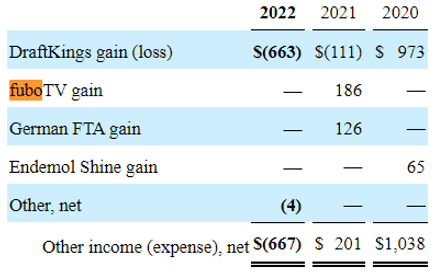 In addition, Bob Chapek previously expressed his objective of incorporating sports betting, gaming, and the metaverse, which were expected to be a tremendous franchise flywheel moving forward. This naturally explained why DIS continued to hold on to its existing 6% stake in DraftKings (NASDAQ:DKNG), despite the notable -$663M losses in 2022 and -$111M in 2021, on top of the multi-year partnership with Caesars Entertainment (NASDAQ:CZR) since September 2020.
It was also important to highlight that the DKNG stake came with DIS's acquisition of 21st Century Fox Company announced in 2017 and completed in 2019, under Bob Iger's watch prior to his previous retirement as the CEO in 2020. As a result of the Board's directive toward the development of a "strategic direction for renewed growth," we posit this reorganization may eventually result in the company's entrance to the sports betting market after the restructuring of ESPN is completed by FQ4'23.
This was especially aided by the tremendous change in the sports betting landscape over the past three years, with gaming now legal in 33 US states by January 2023. Notably, the American Gaming Association [AGA] had highlighted that up to 20.5M Americans might have betted a total of $1.8B on the FIFA World Cup, with another $16B expected for the February 2023 Super Bowl.
In addition, Americans' appetite for gambling (including traditional casino games, sports betting, and iGaming) had also grown exponentially to $60.42B by the end of 2022, with tribal casinos expected to contribute another $41B in revenues. The former represented a tremendous increase of 13.9% YoY and 38.5% from 2019 levels indeed. Notably, sports betting comprised 12.4% of the 2022 revenue at $7.5B, with Americans betting a total of $93.2B in the segment at the same time.
Therefore, it made sense that the competition in the sports streaming segment proved intense as well, with Alphabet's YouTube (NASDAQ:GOOG) (GOOGL) shelling out approximately $2.5B for the annual NFL license for the next season. Amazon (NASDAQ:AMZN) was also reportedly eyeing the sports streaming market, with a "self-contained sports app," as DIS similarly paid a hefty $3B price tag for the 5Y television broadcast rights of the Indian Premier League cricket tournament in the Indian subcontinent.
Naturally, it remains to be seen if Bob Iger may truly embark on this path as per our speculation, especially due to the potential backlash and contradiction to DIS's family-friendly branding. It might compound the existing issues from the "woke" label and the revoking of Florida's special district status, since the "district's existing board would be replaced by a five-member board hand-picked by DeSantis by June 2023."
There is no doubt that Bob Iger has an unenviable job in righting the DIS ship for the next two years.
So, Is DIS Stock A Buy, Sell, or Hold?
DIS 1Y EV/Revenue and P/E Valuations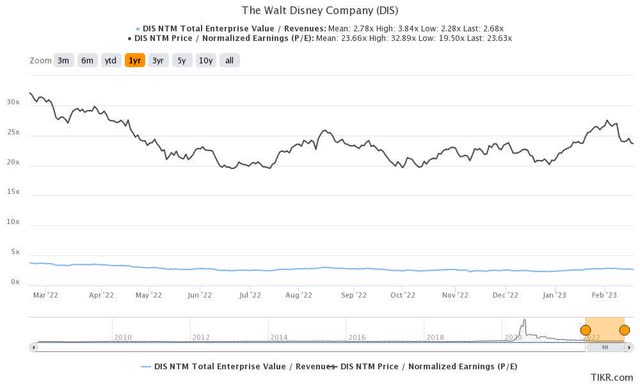 DIS is currently trading at an EV/NTM Revenue of 2.68x and NTM P/E of 23.63x, lower than its 3Y pre-pandemic EV/Revenue mean of 3.31x though higher than its 3Y P/E mean of 18.04x.
With its latest P/E valuation and projected FY2024 EPS in line with our previous article, our price target remains the same at the $130s, suggesting a notable 23.5% upside potential from current levels.
DIS 1Y Stock Price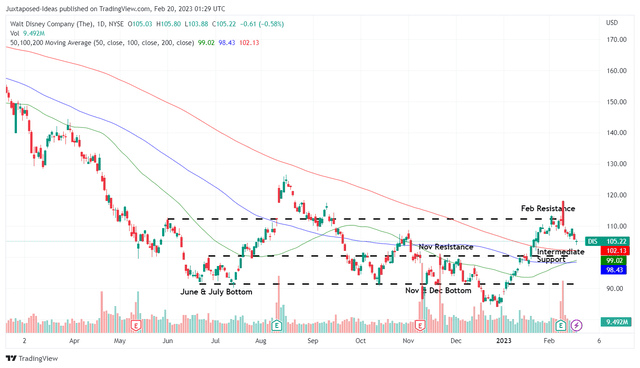 However, with the DIS stock already trending downwards after the FQ4'22 earnings call, we reckon there may be more headwinds moving forward, despite the supposed restoration of dividends by the end of 2023.
The company had generated minimal Free Cash Flow [FCF] of $106M over the last twelve months, against the $3.59B reported in FY2020 and $1.73B in FY2019. In addition, its net debts remained elevated at $36.65B by the latest quarter, with $1.65B in annual interest expenses. These numbers were understandably concerning, given the comparison to FY2018 levels of $13.16B and $682M, respectively.
It was important to highlight that on top of the global impact of the COVID-19 pandemic, the elevated debts were also attributed to the 21st Century Fox Company acquisition worth $71.4B. The deal included a 50% in cash payment, a 50% in stock, and the assumption of $13.8B of debt.
For now, it appears that DIS might prioritize dividend payouts over deleveraging in the short term to win over shareholders. With analysts' projections of FY2023 FCF of up to $4.35B, it remains to be seen if shareholders would be satisfied with the projected dividend payout of $0.01 per share by FQ4'23.
Combined with the uncertain macroeconomic outlook and a Fed pivot likely only occurring from 2024 onwards, we reckon the optimism post FQ4'22 earnings may be potentially digested ahead. As a result, we prefer to rate DIS stock as a Hold here.
Investors looking to add should consider so if it subsequently lowers their dollar cost average. Otherwise, we reiterate our mid $80s entry point at the previous December 2022 support level, which may provide an improved margin of safety for long-term investing.