On a warm night in Dubai, in March of 1996, a lean, spry figure of a man dressed in a pale blue suit of exquisite tailoring floated down the staircase of the Nad Al Sheba grandstand to the cheers of the surrounding crowd. At the foot of the stairs, awaiting him in the walking ring, was a dark brown Thoroughbred, unsaddled and sweating in the desert night. The horse, named Soul of the Matter, had just run the race of his life, which is why the man, his owner, was crying for joy.
Never mind that Soul of the Matter had finished second to Cigar in that first running of the Dubai World Cup. Burt Bacharach, the man in blue, was overcome with affection and respect for the equine athlete he had bred, named, and suffered alongside through two solid seasons of giddy highs and agonizing lows. And now this, at the very pinnacle of the racing game—of which he had been a part for a quarter of a century—coming within half a length of winning the world's grandest spectacle, only to be beaten by the world's best horse. By half a length.
Burt did not curse his luck or wonder at what might have been. At that point in his life, there was no more famous composer of popular music on earth. The fact that he ventured seriously into the Thoroughbred world only added to the charm of the man who considered among his closest friends guys like Bill Shoemaker, his tennis partner, and Charlie Whittingham, his neighbor for many summers on the beach at Del Mar.
"Coming from a very highly geared, over-stated business like the music business, or show business—where everything is 'smash, boffo, big hit'—it was always refreshing for me to be around someone like Charlie," Bacharach once said. "He never gets too wound up about the success, or the grief."
After a while, after knowing Burt a few years, the wonder settled down and I came to understand why the Thoroughbred racing community offered the incomparable composer such joyous escape. His music was precise, populated by hermetically sealed melodies that elevated sublime lyrics by collaborators. Bacharach's songs were meant to be sung the way they were written, allowing for just enough vocal interpretation to invite artists like Aretha Franklin, Marilyn McCoo, Karen Carpenter, Aaron Neville, Tom Jones, Luther Vandross, Wynonna Judd, and Chrissie Hynde to follow the musical path first ventured by Dusty Springfield and Dionne Warwick.
Burt was a composer who could take a Hal David lyric hook and turn it into a chanting, seven-beat invocation that went from "anyonewhoeverloved" to "anyonewhoeverdreamed" to "anyonewhohadheart" and then, 30 years after it was written, savor its appreciation by no less than Linda Ronstadt on an episode of The Tonight Show.
He was enough of a sport to stand by grinning like a proud father while Neil Diamond, accompanied by a boom box, crooned Bacharach's "Heartlight" hit song in the walking ring at Belmont Park before his champion filly, Heartlight No. One, went forth to win the Ruffian Stakes.
Burt Bacharach leads Heartlight No. One into the winner's circle after the 1983 Ruffian Handicap at Belmont Park
And it was the everlasting showman in Burt Bacharach who talked his pal Shoemaker into an appearance on a 1970 broadcast of the "Hollywood Palace" variety show, during which the champion jockey—who would ride Bacharach's first stakes winner in 1971—bantered with Burt and his wife, Angie Dickinson, before taking the stage to sing and dance.
My mother was born the same year as Burt Bacharach, 1928, although he lasted two years longer. We listened to a whole lot of his music together, and then, well into their 70s, there she was backstage with Burt after a concert by the bay in San Diego. Given my small interception of his world, it should be no surprise that his death on Feb. 8, at age 94, has let loose a flood of fond memories shared from quarters far and wide. His global impact dwarfs the mark he made in horse racing. But have no doubt, that mark has been real and will be everlasting.
In January of 2018, in the wake of the San Luis Rey Downs training center fire that killed 46 horses and seriously injured trainers Martine Bellocq and Joe Herrick, Bacharach and his wife, Jane, spearheaded a benefit concert not far from Del Mar to help support the many stable hands displaced by the tragedy. Elvis Costello, a latter-day Bacharach collaborator, was part of the show hosted by Bacharach family friend and animal activist Angelica Huston. It was a sellout and raised a lot of money.
The racing trophies are nice, sitting there alongside Burt's three Oscars and his herd of Grammys. But he needs no monuments. The airwaves can be filled on any given day with the harvest of his talent. And yet there is a place where Burt Bacharach is worshipped in spirit every day, deep in the heart of horse country.
The oldest resident at Old Friends Equine in Georgetown, Ky., is Afternoon Deelites, a son of Private Terms who carried the Bacharach silks—light blue with a musical note on the back—to victories in the Hollywood Futurity (G1) and the Malibu Stakes (G1), finished second in the Metropolitan Handicap (G1) and the Santa Anita Derby (G1), and took his owner/breeder to the Kentucky Derby.
"He's 31 now, and for his age looks pretty darn good," said Old Friends founder Michael Blowen. "He never really has a bad day—until this week. I mentioned to someone the other day that there was something not quite right about the old guy. I'm not really one to believe in such things. But still …"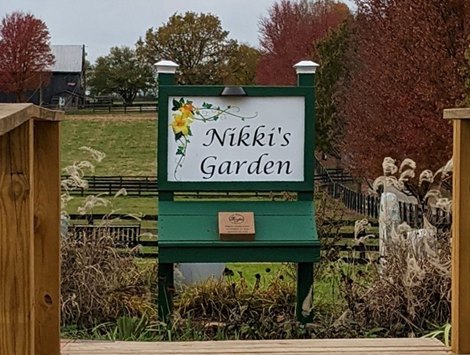 Nikki's Garden at Old Friends
Burt and Jane Bacharach, as well as his former wife Angie Dickinson, have been quiet, stalwart supporters of Old Friends for as many years as the place has been in business. They've asked for no special recognition or thanks. But then, following the 2007 death of Nikki Bacharach—the 40-year-old daughter of Burt and Angie—the family was moved to create a special place among the horses in her memory.
So there you go, fellow travelers. If you're ever in the neighborhood, longing for a little peace and harmony, stop by Old Friends just off Paynes Depot Road and spend some time in Nikki's Garden. Let the shoulders drop and thoughts wander, and I'm betting a song will come to mind.